5 Easy Ways to Incorporate Sensory Play
April 25, 2023
/
/
Comments Off

on 5 Easy Ways to Incorporate Sensory Play
5 Easy Ways to Incorporate Sensory Play
Today's topic is for parents who want to add sensory play to their child's playtime. We always hear how beneficial sensory play can be, but it can seem daunting to think of how to exactly expose our
children to this awesome play concept. Well, here are 5 simple ways to incorporate sensory play.
1. Easy Sensory Play Bins:
Most likely, you already have the ingredients you need to make a sensory bin in
your pantry. It does not have to be complicated at all. First, make sure the box you use is a clear
container and has a top for easy storage. The main ingredient can be dry rice, dry pasta, or dry
beans. Next, you add small toys and tools such as small spoons, scoopers, pom poms, and small
cups/containers. Also, if you are making a sensory box for children under 3, who may still put things in
their mouth, that the main ingredient can be Cheerios and the toys can be larger.
2. Finger Painting Sensory Play:
Another easy sensory activity is finger painting. Particularly, finger painting is a great way to incorporate messy play and engage the tactile/touch
sense. This is a fun way to get your little one used to messy play and make a project he/she can
be proud of. First, I like to use poster board paper and use tape to create your child's initials in the
middle of the paper. Then let them choose 2-3 colors to mix around the whole paper with their
hands. After it dries, peel the tape and you will have his/her initial stand out. Also, try making
fun designs with tape.
3. Baking/Cooking:
In addition, the sensory play does not just involve touch and feel activities. The more senses
that are engaged the better. Specifically, baking will also engage the olfactory system, and gustatory system if tasting throughout can be included. For kiddos who are picky eaters, the more exposure they get to the meal prep process, the more likely they are to be interested in new foods.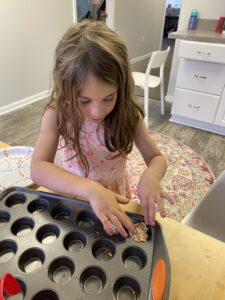 4. Slime Sensory Play Activity:
Similarly, there is something about making slime that engages kids. Overall this experience is
great because they can be part of the entire process and handle dry ingredients and wet
ingredients. To begin, gather the three main ingredients for making slime, which include 8oz Emler's white school glue, 1
tablespoon baking soda, and 2 tablespoons saline contact solution (food coloring drops are
optional). Then mix the glue and baking soda first (with a spoon or with hands). Next, add the food
coloring drops and mix well. Last, add saline eye contact solution, 1 tablespoon at a time as you
knead the slime. Ultimately the more saline you add, the thicker it'll be. The less you add, the slimier it'll
be. Lastly, save it in a zip, airtight bag to store. You can add in extras like glitter, scented oils, or even
mini Styrofoam balls for increased sensory textures and experiences.
 5. Shaving Cream Sensory Activity:
Shaving cream activities can get messy, but shaving cream is so easy to
clean up and doesn't stain anything. Particularly I like to place shaving cream on baking trays for easy clean
up. Then on the baking trays, children can practice drawing their letters, numbers, and shapes. For example, I have
seen kids sit at the tabletop and practice letter formation over and over when presented with the opportunity to play with shaving cream.
Ultimately I hope you try these activities if you are looking to increase sensory play. After all, research shows that sensory
stimulation and sensorimotor activities increase learning because it builds increased nerve connections
in the brain's pathways. Sensorimotor activities are activities that involve the senses while completing
motor movements with the hands or the whole body. With this in mind, participating in sensorimotor activities will lead the
child to develop the foundation for higher-level learning skills. As a result, sensory play supports language
development, cognitive growth, fine and gross motor skills, problem-solving, and social interaction.
– By Roxana Bermeo, M.S. OTR/L
Accordingly, for more information about incorporating Occupational Therapy sessions with Ms. Roxy into your child's care plan, give us a call at 904-372-4070. In addition, for more sensory activities, follow along with us on our Instagram for a behind the scenes look at what activities Coastal Pediatric Therapy Center's therapists are incorporating into their sessions.
Related Tag: Sensory Integration Occupational Therapy